Main page / Brands / Dr.KONOPKA'S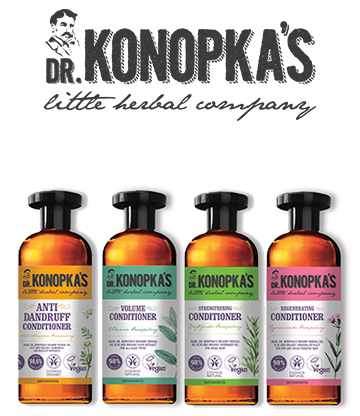 85 years ago
Dr. Konopka opened a small pharmacy in the suburbs of Tallinn.
In a small Doctor Konopka's herb shop you could find a remedy for every occasion.
Doctor Konopka's family have carefully collected and kept recipes of invigorating balms, infusions and ointments based on healing herbs, and have passed those from generation to generation.
In 1938 year
In 1938 at his own expense Dr. Konopka published a very limited edition of book with his beauty recipes.
In 2013 year
Eurobiolab company has decided to restore beauty recipes of Dr. Konopka combining them with modern technologies. After three years of hard work Dr. Konopka's beauty products for skin and hair have been finally released.
TO GET MORE INFORMATION PLEASE VISIT http://drkonopkas.com/
Dr. Konopka new range
Dr.Konopka Men