Main page / Brands / Dr.KONOPKA`S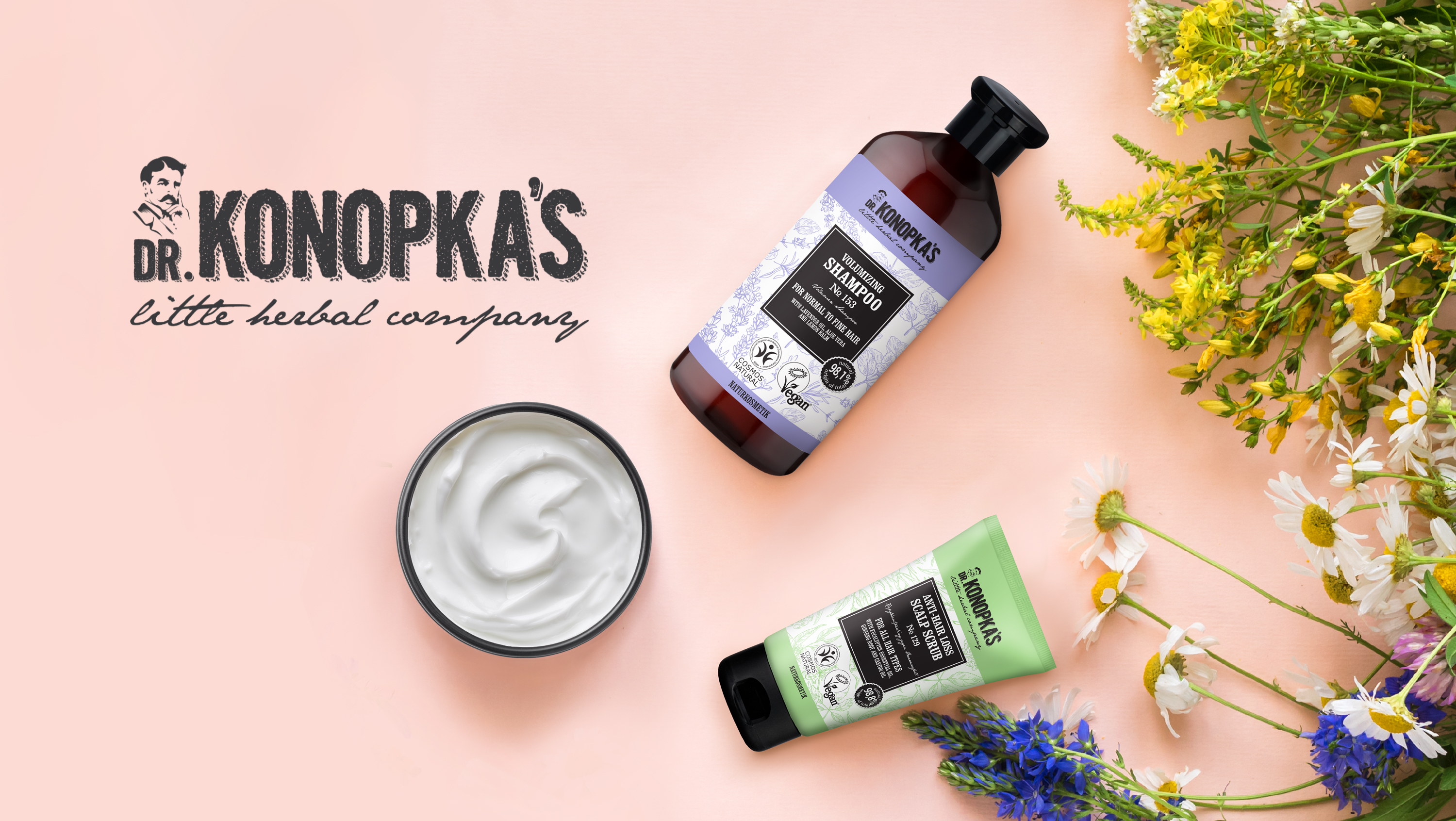 Dr. Konopka's is the solution to many problems due to the unique and the most successful combinations of herbs and natural oils from the book with beauty recipes of 1938. All products are developed according to the time-tested apothecary recipes combined with modern sustainable technologies.
About 100 years ago Dr. Konopka opened a small pharmacy in the suburbs of Tallinn.
His shop was so popular that people would come to the queue from the very morning to the opening, because his magical herbs really helped people.
Over time, more and more people began to come who wanted to somehow improve their appearance, their skin. So healer began to create beauty recipes that really worked. All recipes were kept secret and Doctor Konopka's family have carefully collected and kept these recipes of invigorating balms, infusions and ointments based on healing herbs, and have passed those from generation to generation.
In a small Doctor Konopka's herb shop you could find a remedy for every occasion. Dr. Konopka specializes on products for body and hair beauty. All of the new products were first tried by the doctor's wife, who was beautiful and incredibly demanding customer. Beauty products came to the pharmacies shelves only after she confirmed their highest quality.
For example, Dr. Konopka created cream with a wound healing effect, this cream contained extracts of 48 valuable herbs. The buyers were impressed with the instantaneous effect of the cream and called it "Dr. Konopka's wondercream". Then he developed unique antibacterial homemade soap on the basis of aluminum acetate. The soap become so popular that the doctor began to deliver it for sale to the neighboring towns in his truck.
After that he took decision to dedicate his life to learning about herbs and plants and using them in the pharmacy products. The doctor has developed more than 150 oils for hair. He believed oil No52 and No37 to be the most successful two. Oil No52 – organic restoring hair oil, it nourished and protected dry, damaged hair, restored its health and shine. Oil No37 - the recipe was created to combat dandruff, calm sensitive scalp and give to hair healthy appearance. Later these oils became part of his unique hair shampoos.
The demand for Doctor Konopka's beauty products was so high that in 1938 at his own expense he published a very limited edition of book with his beauty recipes. Most of the recipes have survived to this day.
In 2013 year Eurobio Lab company has decided to restore beauty recipes of Dr. Konopka combining them with modern technologies. After three years of hard work Dr. Konopka's beauty products for skin and hair have been finally released. We treated his recipes with respect, optimizing them for modern realities and creating a product of the highest quality especially for our customers.
Due to multiple requests in 2022 year Eurobio Lab company created a special collection for men. We were inspired by the power of nature, its might and wildness. It fills today's men`s busy life with freshness and energy. All products are based as usually on time-tested apothecary recipes! We offer men eco & bio clean ingredients with proven effectiveness.
In addition to oils and essences, all products are empowered by other extracts and oils known to be best for specific concern to ensure maximum effectiveness:
GINGER EXTRACT prevents hair loss and promotes hair growth
NETTLE EXTRACT regulates natural sebum production and fights against dandruff
OAK BARK EXTRACT tonifies, soothes and provide antiseptic effect
PEPPERMINT OIL and MINT EXTRACT energizes the scalp and stimulate hair growth
The entire men's line is saturated with the smells of masculinity, strength, freshness and purity.
Green and sustainable formulas approved by leading global standard such as COSMOS STANDARD by the German certification body BDIH.
No animal ingredients or animal testing which is confirmed by Vegan Society certificate.
Dr. Konopka`s new range
Dr.Konopka`s Men